Stories of Divided Families
Won Chan Noh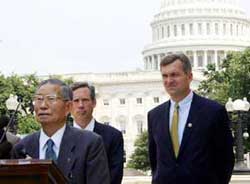 I am 93 years old, and I left a 10-month-old son and a 5-year-old son in North Korea. I went to DC in 2007 to let the world know about our suffering, and time is running out for us in the United States and for our family members in North Korea.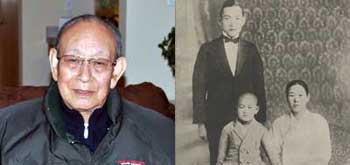 This family picture shows my father, my mother, and me when I was five years old. Now I am 86 years old. My father passed away in North Korea and my mother passed away in Chicago without knowing what happened to each other. But I still have a younger brother, Oong Hee Lee, in North Korea. Until 10 years ago, Oong Hee wrote to me, but his letters suddenly stopped. If he is still alive, he is 79 years old. I am praying that I will see my brother and visit my father's grave in my lifetime.
See Oong Hee's letter and pictures
.
Un Chin Lee
I am 90 years old. I left a 2-year-old, a 5-year-old, and a 7-year-old then in my mother's care in North Korea. While I was visiting my relatives in Seoul, the Korean War broke out, and I couldn't go back home. Since then, every night I go home in my dreams looking for my children. I had a stroke several years ago, and I have had a few operations, but I am hanging in here because I must know what happened to my children.
Kwan Chong Seo & Hyun Ok Seo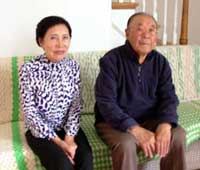 I am 88 years old, and my wife is 82 years old. I have one sister and one brother, and my wife has two sisters in North Korea. We own a house in Chicago, and it is getting harder for us to maintain the house. But we refuse to give up the hope that our brother and sisters in North Korea will come to the United States and live together with us in our house some day.
Divided Families (Second Generation)

Attorney
Saemsori Founding Director See Saesori Project
Massachusetts Institute Technology graduate
Georgetown University graduate
Saemsori.org

Film Maker
Executive director of Korean American Community Corps, a 501(c)(3)
key player in Saemsori to pass HR.2595, Section 1265 (2006-2007) when the bill was blocked initially in the House(Link to Annabel Park's letter to Congressman Duncan Hunter)
Leader of the grassroots coalition to the passage of H.Res.121, "the Comfort Women"

M.D., M.P.A
Divided Families Film Director/Producer
Harvard Medical School Graduate
Harvard Kennedy School Graduate
www.dividedfamiliesfilm.com

Divided Families Film-Executive Producer and Co-director
The New Enterprise Associates
MBA from Harvard Business School where he was a Baker Scholar
www.dividedfamiliesfilm.com